Wooden Houses
Start to build with us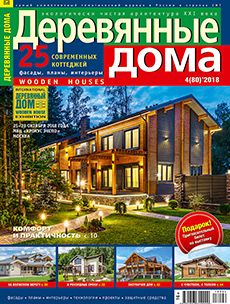 Wooden Houses is both a magazine and website that serves as the ultimate resource for wooden house enthusiasts. Find design ideas for custom wood homes and expert advice on how to plan, build, and design your very own wooden dream home.
Currently wooden construction industry is booming, since more and more people are given their preferences to environmental friendly products and comfort. Besides that, high technologies development in design, woodworking, creating new materials in addition to other well-known advantages of wood houses has led to qualitative changes in the wooden house construction. Not surprisingly, that the demand for wood houses, in spite of their considerable cost, has increased dramatically and continues to grow. Presented in the magazine wooden houses projects are designed for the most comfortable accommodation and have a full range of amenities. This is the choice for family-oriented lifestyle people, who value comfort and a healthy atmosphere in the house. Wooden cottage is ideal to those who strive for positive emotions, unity with the environment and harmonious relations with relatives.
The main aim of the magazine is to highlight the advantages and disadvantages of the construction methods. Someone prefers log house, others, because of financial and aesthetic ideas, will order his home of laminated veneer lumber. Great attention is paid to details, specific of used technologies, as well as the affordable and high quality methods. The publication contains a large number of ideas and possible solutions in the field of wooden house construction and arrangement. The magazine regularly provides news, information about the exhibitions related to timber industry, reports on the achievements of Russian companies in the field of wooden construction, etc.
The official website of the Wooden Houses magazine give the opportunity to read online and see photos of selected materials published in the printed version of the magazine. We also offer our readers a full digital versions of magazines (since 2009) for reading online. For example, you can flip through the magazine «Wooden Houses».
Magazine Wooden Houses has traditionally been the General Media sponsor of the International Wooden House and Beautiful Wooden Houses exhibitions passing the spring and autumn in Moscow, Crocus Expo and the International architectural contest Beautiful Wooden Houses. Organizer of the exhibition is the World Expo Group Company.
Wooden Houses magazine was registered by the RF Ministry for Press, Broadcasting and Mass Communications. Registration certificate ПИ №77-9179 dated May 31, 2001.
The magazine has been published since the year 2001.
Frequency: 6 times a year
Circulation: 50 000 copies
Format: 220 x 290 mm
Printing: full color
Printing house: OOO «Pervy Polygraphichesky Kombinat»
Distribution: Russia, CIS and far abroad
Tel: +7 495 730 55 92
E-mail: mnv@houses.ru
Nadia Morozova